For over 20 years, Pennco Container has served the packaging industry with unparalleled service and quality. Our customer service and personal attention to your needs will establish Pennco as a loyal partner and a valued contributor to your success. Pennco is a true stocking distributor, with packages ranging from 1/4oz to 55 gallon sizes in stock and ready for immediate shipment.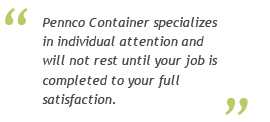 We serve a wide range of markets, including personal care, automotive, food and beverage, and household industries. Pennco Container views your needs as having the utmost of importance and will dedicate ourselves to supplying you with the most cost effective options available. Our value added in-house decorating service allows Pennco to take your packaging from being simply a vision straight to the marketplace.
Pennco Container specializes in individual attention and will not rest until your job is completed to your full satisfaction.